Our Farmer Advisory Council
Fair Farms appreciates the time and input of its Farmer Advisory Council. These farmers embody the principles of sustainability and work to educate the Campaign on the unique challenges facing farmers in their efforts to be responsible stewards of animals, land, water and air. They also provide feedback and guidance on campaign goals, objectives, and strategies and alert us to opportunities to support the sustainable farming community.
Farmer Advisory Council members:
Liz Whitehurst, Owls' Nest Farm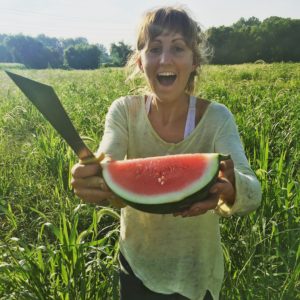 Farmer Advisory Council Coordinator
Liz has worked on diversified vegetable farms since 2009, including several small farms in the DC metro region. Owl's Nest Farm started in 2016. When Liz's former CSA farmer, Kristin from Radix Farm, decided to sell her farm operation, Liz jumped at the chance to take over caring for the land and growing good food for great people in DC. As the owner/operator of Owl's Nest Farm, she loves working hard, growing healthy food, and building strong relationships.
Bryan Alexander, Good Dog Farm
Bryan Alexander and Joanna Winkler run Good Dog Farm, a 10-acre certified organic vegetable farm in Parkton, Maryland. They supply Baltimore customers with delicious, nutritious food of the highest quality. They are certified USDA Organic and use sustainable growing practices to protect our soil and waterways. Good Dog Farm provides a diversity of crops for our Community Supported Agriculture program plus unique varieties of storage crops like potatoes, winter squash and sweet potatoes.
Carin Celebuski, Ladybrook Farm
Carin and her husband Vince own Ladybrook Farm in Baltimore County. The farm began in 2016 when they both wanted to turn their strong interest in local foods and the environment into a business. They are a woman- and veteran-owned business, and we bring energy and enthusiasm to all aspects of farming, from selling at markets to mucking out the stalls.
Cleo Braver, Cottingham Farm
Cleo is an attorney-turned-farmer and the owner of Cottingham Farm, an organic farm on the Eastern Shore. She currently serves on the Maryland Department of Agriculture-led Healthy Soils Consortium. She worked as General Counsel for a Baltimore corporation and also worked as an attorney in the non-profit world. She helped form the Environmental Committee of Talbot County Democratic Forum and serving as first Chair.
Doug Adams, New Brooklyn Farms
Doug is an urban farming advocate and founder of New Brooklyn Farms, Benefit LLC – an urban farm and green event space in Prince George's County. Doug established New Brooklyn Farms in late 2016. New Brooklyn Farms' mission is to create and embody a culturally-robust green entrepreneurship and lifestyle platform for progressive environmental, economic, and social impact. In 2019, Doug collaborated with local government officials and organizations to play a key role in the passing of 2 new pieces of legislation which expand the presence of urban farming in Prince George's County.
Ellen Polishuk, Plant to Profit
Ellen Polishuk discovered farming at an early age and took that passion to Virginia Tech where she earned a BS in Horticulture. She later became one of three owners of Potomac Vegetable Farms (PVF), where she worked for 25 years managing the Loudon County location. In 2010, while still farming, she started her consulting business, Plant to Profit. She retired from farming in mid-2017 and now coaches farmers on production practices, labor management, soil testing and fertilizer recommendations, and marketing.
Lisa Garfield, Calliope Farm / Future Harvest
Lisa Garfield has a dozen years of farming experience, primarily as the owner/operator of Calliope Farm, a diversified vegetable farm on the Delmarva Peninsula of MD. In 2014, after hosting several university research projects on her farm, participating in a Johnny's Seeds breeding trial, and completing two of her own SARE funded on-farm projects, she succumbed to the promise that research could provide "all of the fun, with none of the risk," that farming does, and pursued an M.S. in Plant and Soil Science, from the University of Maryland Eastern Shore. While she has found this to be mostly true, she misses the great food, so still keeps a garden and has plans to transition her farm to a food forest model. Lisa now holds the position of Million Acre Challenge Manager at Future Harvest, heading up the Soil Health Benchmark Study, and other soil-health focused programming.
Peter Elmore, Star Bright Farm
Peter Elmore grows perennial and annual herbs to sell fresh, dried, and distilled focusing on the wellness industry. Star Bright Farm engages holistic, resilient, and regenerative farming practices with a goal to foster positive feedback loops in social, natural, and agricultural landscapes. Peter has a dual degree from University of Vermont in community development and ecological agriculture, and he has grown up and been a part of the organic food Industry his entire life.
Sam White, Leaning Pine Farm
Sam White and his wife Amanda Paul have been raising grass-fed beef in western Allegany County, MD since 2003. Following Regenerative Grazing principles, they operate a cow/calf operation, pasture finished beef that they sell from the farm, free range eggs, and pick your own raspberries.
Taffy Gwitira, Telefarm
An immigrant from Zimbabwe and Tanzania, Tafadzwa (Taffy) Gwitira is an urban farmer, chef, and policy consultant. Her work is focused on community engagement, human rights, sustainable development, and placemaking, locally and globally. She completed farmer training with Future Harvest CASA, and specializes in growing ethnic crops.